With over 70 years of history, Serugeri was born from an entrepreneurial philosophy based on wood, which has been going for three generations.
Today, we have more than 28 employees, an area of ​​over 10,000 m2 and a warehouse with a vast assortment of national and international brands.
>10.000
Square meters of warehouse
10 Brand
Top quality brands
Serugeri
WITH YOU FOR 70 YEARS
Paying attention to innovation and new market demands, Serugeri constantly expands its product range to satisfy technical necessities and current trends, like Porcelain Gres slabs, Solid Surfaces and Quartz Agglomerate.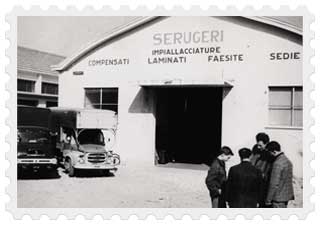 Carmine Serugeri opens his first sliced veneer and wood warehouse in Filippini Street, Verona.
Thanks to the growing demands of a strong expansive market, he bought a new, bigger warehouse in Murari Street.
After the expansion of the range of his products and services and the creation of a commercial network, he transferred his company to Barsanti Street.
The storage and display area is further expanded to contain the entire range of products distributed. The warehouse exceeds ten thousand square meters.
The growing demand for elaborated products, together with the need to control timing and quality standards, pushes Serugeri to create the carpentry department, able to offer customized products and services.
The most recent chapter of Serugeri's history is the creation of the Showroom, an expositive space designed to help and support the most demanding clients, giving them the possibility to touch materials and getting inspired by the exposed works and compositions.
We're Growing together with our brands and clients, thanks to values that have roots in a seventy years long experience.